Location: Loire Valley, France
Program: Field Research
Year: 2015

Landscape Viticulture is a field study examining organic and biodynamic vineyards in order to extract ecological or cultural strategies used in the vineyard that play a role in the expression of terroir in wine.

"Vines are the ideal plant to capture the microclimate through the leaves and the soil through the roots." Nicolas Joly
Fruit Tree Groves
Hedgerows
Forested Patches
Groundcover
Stepped Terraces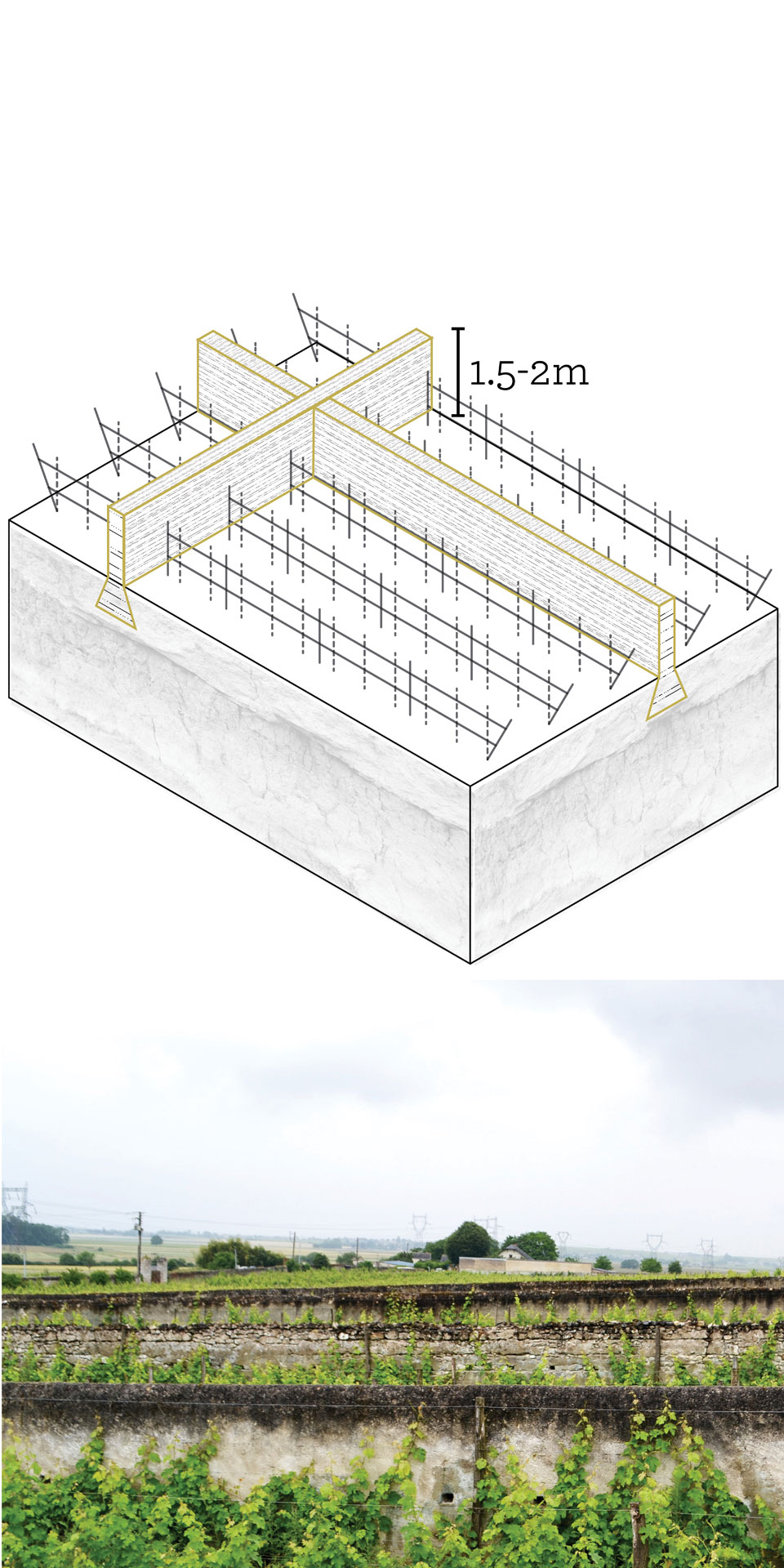 Enclosing Walls
Sloped Terraces
Drainage Swales
Ecological Growing
With the emergence of bio-dynamic, and organic viticulture methods, which exclude the use of pesticides and fertilizers, attention to the vineyard landscape has increased. These methods stress the importance of the specificity of the finished product and emphasize special characteristics in the wine that are "truer" to the terroir than those produced by conventional methods. Many growers have discovered that their wines have changed and differ significantly from the protected origin or Appellation d'Origine Protegée (AOP) "standardized taste" within which they belong. This phenomenon is mainly due to the total disappearance of chemical fertilizing, pesticides and chemical weed-killers. Wines are therefore reflecting the true characteristics of the soil.

Encounters
The field research focused on interviewing vineyard owners of the Loire Valley and understanding their growing philosophy. Visiting vineyards using the same grape varieties yet in different locations helped reveal the impact of environmental, geological, and landscape conditions (constructed or found) on the wine.

Chateau Tour Grise, Puy-Notre-Dame, France
"The vineyard is thought of as an agricultural organism and not as an operation."
Françoise Gourdon
Domaine Amirault, St-Nicolas-de-Bourgeuil, France
Abbaye St-Nicolas, Angers, France
Domaine Patrick Baudouin, Layon, France
Domaine Les Chesnaies, Chinon, France
Coulée de Serrant, Savennières, France
Domaine Francois-Chidaine, Montlouis-sur-Loire, France
"A wall's orientation is not as influential as the mere presence or absence of it next to the vines."
Eric Dubois
Clos Cristal, Saumur, France
---
Copyright © Alexander Cassini 2020 | All rights reserved